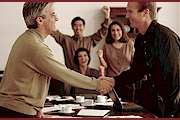 Virtual Recruiters Inc. 1101 California Avenue Suite 100 Corona, CA 92881 directions O
{compliance support}

VR affirm™ adds support to ensure affirmative action and compliance data will be gathered and diversity issues addressed during the recruitment process.
Equal Employment Opportunity tracking and reporting guidelines are constantly changing and have driven companies to find recruiting partners that will help them remain in compliance. The VR affirm™ service offering adds best practice talent acquisition processes and reporting mechanisms that integrate with our client's existing policies and processes allowing HR departments to receive EEO candidate logs, applicant data for each requisition, and EEOC counts by job category, gender, and ethnicity. This information is collected during the initial screening phase of the recruit cycle, stored separately, and made available to the appropriate designated human resource partners for evaluation and/or reporting purposes.
As well, if a client has determined a specific open position has been designated as having an affirmative action placement goal associated with it, our search consultants will work closely with hiring managers to ensure that candidates are sourced using additional diversity and affirmative action strategies. This added focus will contribute to your organizations diversity hiring initiatives.