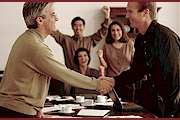 Virtual Recruiters Inc. 1101 California Avenue Suite 100 Corona, CA 92881 directions O
{applicant tracking}

VR track™ provides a robust applicant tracking system accessible to hiring managers to help maintain and share up to date information and status of all candidates related to each job requisition.
Once Virtual Recruiters begins a search assignment, a job requisition is entered into VR track™, then all candidates interested in that position are inputted into the system and tracked during each stage in the process. Candidate data, contact information, employment and education history, resumes, interview notes, original source and final disposition are all captured, updated, and linked to each job opening that applicants have applied.
VR track™ is used to schedule interviews, store resumes, and allow for effective searching, filtering, and routing of applications. It also provides just in time and on demand access for hiring managers to see the current status of each search assignment that Virtual Recruiters is engaged.
This system is web-based and is only accessible to those individuals with established permission to view applicant data. Currently, only clients who have contracted with Virtual Recruiters VR search™ solution to fill their open positions can utilize our VR track™ services.